---
Amanda "Missy" Cleveland Biography: A Tribute
---
Amanda Cleveland was born on Christmas day, December 25th, in 1959, and it certainly prophecized that an angelic lady was born that day. She later acquired the nickname "Missy", which stuck, and ended up being her first name most of the time.
She was known in the late 1979 and the early 1980s as Playboy's "Golden Girl" for her blonde, petite, All American good looks, and the title fit her well.
Missy grew up in Jackson, Mississippi, loved the outdoors and riding motorcycles, and even entered the Miss Mississippi Beauty contest at age 10. She matured into a fearless daredevil on a motorcycle, toured the south after graduating from high school on a motorcycle with a boyfriend. In Missy's own words:
"I'm your basic fearless kid and all-around speed demon. I've been driving since I was ten"
Missy wasn't only fearless, she was beguiling and beautiful, with perfect legs that only an artist could dream of. Yet she wasn't just a dream, though it must have seemed that way to people passing her by on her motorcycle in a bikini.

I had to include this for the leg-men out there. Have ya ever seen better?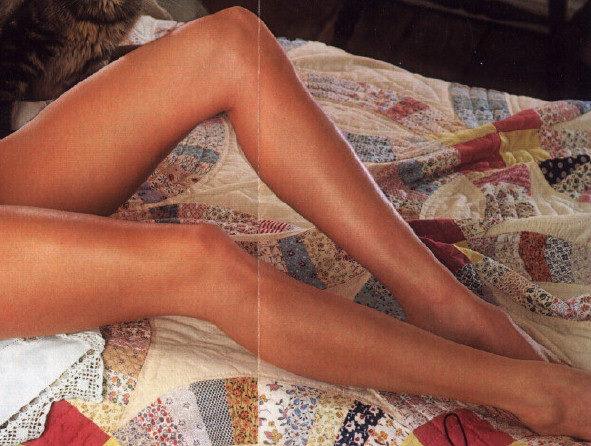 In 1978, Missy, an avid watcher and reader of the news (which she tried to do every day) saw a promotional pitch on her television for the Great Playboy 25th Anniversary Playmate Hunt. At her mother's urging to "go for it", Missy nervously went to meet the people of Playboy at a San Diego hotel which was covered by the local news media. According to Playboy, Missy was struck speechless, as were the TV people and the Playboy reps. She stunned even the talent agents. Playboy thought perhaps she was shy because of her quiet demeanor, but it was just "audition jitters", and they soon found out Missy was a "bundle of congenial energy". Her southern accent charmed the westerners, and soon, she was a Playboy Playmate. Missy said at the time of her plans:
"I'm young, single, and I have money in the bank. I'm going to spend the next few years satisfying my wanderlust. The other kind too."
Things moved rapidly for Missy once her Playmate issue came out in April, 1979.

This is the Cover of April 1979 issue with Missy Cleveland as centerfold. The woman on the cover in 1977 playmate Rita Lee.

On a personal note, this is where I first took notice of the blonde, petite, leggy beauty. The magazine arrived on my doorstep one week before my birthday (Missy and I were the same age) when we were both 19 years old. I'd seen other issues of Playboy before that - I even had a subscription while in college - but never before had I been so completely taken by one before. In short time, I was completely smitten, infatuated, the way only young men can be. I never dreamed I'd actually meet the girl of my dreams, but I'm getting ahead of myself.



Missy looked perfect in her Daisy Dukes long before Catherine Bach or Jessica Simpson ever wore them.


Missy's issue was well received by all accounts, and she became a regular at the Playboy mansion west, and even appeared in small roles in a few movies and TV shows (Listed near the end of tribute). I had hopes of her becoming the Playmate of the Year, but that wasn't to be, for that year the ill-fated Dorothy Straton took Playboy by storm and was a B movie queen on the rise before her tragic murder. That almost insured that Dorothy won the title, but my heart remained with Missy. I still feel she was a much prettier woman than Straton.
One day in late 1979 I was listening to the local radio station in Hamilton, Ohio and heard that the Cavalcade of Customs, a car show, was coming to town. I wasn't much interested in that until I heard that the Playboy Playmates, including Missy Cleveland, were coming to town with the show. I immediately went to four of my college buddies and begged, prodded and demanded they come with me to meet the Playmates. It didn't take much encouragement.




This is the souvenir of the Cavalcade of Customs Playmate review, which they all signed.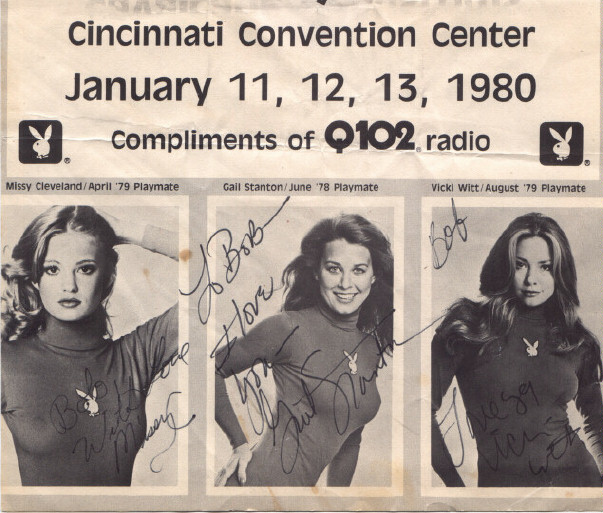 In early January, 1980 when I was a mere 20 years old (as was Missy), I went to the Cavalcade of Customs show at the convention center where I waited nervously in line to meet all six Playmates, but especially, Missy Cleveland. It seemed to take hours to get up to the line, but I leveled my cheap 260 camera and snapped a few pics of the ladies and finally met, talked to, got a few pictures, and an autograph of my crush. I don't recall too much of what I said to her, because I was so incredibly shy. One thing I noticed was that she was very nice - a sweetheart, and just as beautiful in person as in her pictures. She was also, somewhat embarrassingly, the only one of the six playmates to get roses from another infatuated fan. I've included some pictures from that event below, as well 1/2 of the poster of the Playmates with Missy's signature. I've kept it all these years. There were six playmates present, including Victoria Cooke, Vicky Witt, Michelle Drake, Missy Cleveland, Liz Glazowski and Gail Stanton.


One of my pictures of Missy during the show - she posed for this one!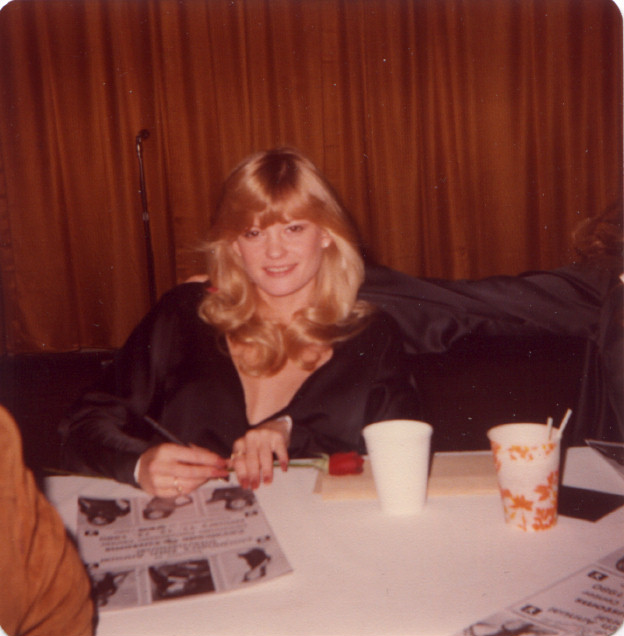 I continued to try to follow Missy's career (she had hopes of becoming an actress, which she did in small roles) through 1980-1982 when I saw her briefly in the Brian DePalma thriller, Blowout. Unfortunately, her character gets killed in the opening scene, but it has an interesting comment about her bad scream, which I'll let you find out by renting it.



Another of my pictures of Missy during the show.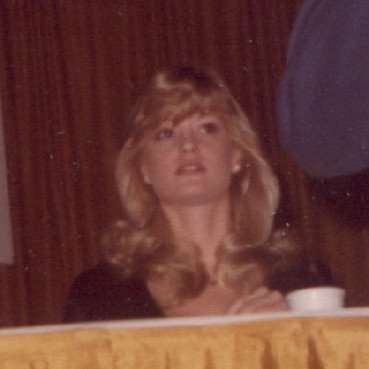 Over the next few years I moved on with life, mostly forgot about my crush on Missy and my meeting with her, and by the late 1980s had nearly forgotten about her. In fact life was so hectic that I didn't think of her again until 2007...when I had run across her issue of Playboy (which I kept) and her photos from the car show. I looked at them with fond memories and then thought I'd look her up in google to see how her life was going. She was my age, so probably a mother of a few kids, married, and I hoped very happy. Who knows, I thought, maybe I'll even be able to email her and tell her about my old crush on her and smile about the past. But almost as soon as I searched the internet I realized, much to my shock, Amanda "Missy" Cleveland had passed away suddenly on August, 14 2001 - 7 years ago almost to the day, and I didn't even know it.


Missy at Playboy Expo in 1999. Didn't she look great?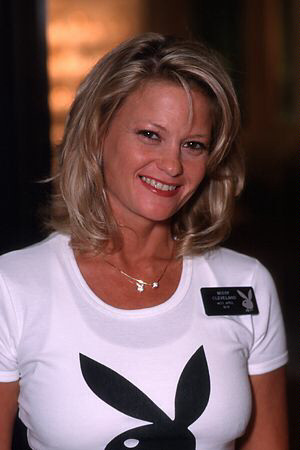 I searched the internet for stories about what happened, but all the accounts were vague. All but one. One web site listed her death as an "adverse reaction to prescription medicine", that she had died at home, and was buried in Mississippi (Yazoo or Jackson), where she'd moved back to after living in LA, Canada, and Florida.
Something doesn't seem right about the details of Missy's death, something isn't being told. She was survived by her parents, sisters and brothers, but no children and apparently no current husband, although she had once been married. People who have adverse reactions to medicine generally get to the hospital or are on the way before they expire. But it said she died at home. My guess, and I do this only to get at the truth, not to hurt her family or loved ones, is that "adverse reaction to prescription medicine" is very nice covering language for accidental overdose. That's pure speculation on my part, but having been in the medical field once, the language and cause of death fits with overdose. If anyone knows for certain how she died or any other interesting facts about this wonderful lady's life, please email me and if I can confirm it I'll add all the info here, with credit to whomever submits it.(If desired, of course).
EMAIL ME.
However Missy passed this world, she will be greatly missed by many of us and of course, by her family and loved ones. Missy's southern grace, natural charm, perfect legs, golden girl look and adorable beauty (all natural, by the way) has never been topped in my estimation in the pages of any man's magazine. She was fearless, but also a romantic and incredibly sweet in person. I will always have a place in my heart for Missy, who died far too young at the age of 41, but who will live on in my mind and to some small degree, on these pages.

Enjoy Missy's beauty and spread the word about this page to all those you want to share her with. I hope she'd be happy with my efforts at this tribute to her, to her beauty, and her sweet memory. Rest in Peace, lovely Missy.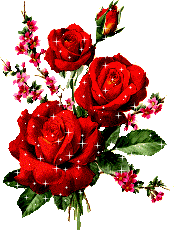 | Home | Picture Galleries | | Contact |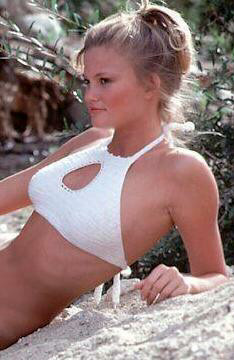 Below are some of the various accounts of her life I found online:
---
Amanda (Missy) Hodges Cleveland (December 25, 1959 – August 14, 2001) was an American model and actress. She was Playboy magazine's Playmate of the Month for the April 1979 issue. Her centerfold was photographed by Mario Casilli.

Cleveland was born in Jackson, Mississippi. She was discovered by Playboy through the magazine's 25th Anniversary Great Playmate Hunt, a contest she entered after being prodded by her mother. With her petite, "golden girl" look, she appeared in the films Cheech and Chong's Next Movie, Let's Do It! and True Confessions. Her most famous role is probably as the naked girl in the shower at the beginning of Brian De Palma's Blow Out.

Missy was with the Playboy model agency in Los Angeles in the 80s, and appeared in a number of publications. Robert E. Fleming directed and photographed a number of her commercial print projects. After her acting career slowed down, she moved to Florida and Canada before settling back in Mississippi, where she found work at a property management firm and got married. She died on August 14, 2001 in Yazoo City, Mississippi.
-----

Amanda H. (Hodges) Cleveland - Obituary

Jackson, Mississippi

Amanda "Missy" Hodges Cleveland, 41, died Tuesday, August 14, 2001, at home. Visitation is 5-7 p.m. today and 10 a.m. Friday at Wright and Ferguson Funeral Home in Jackson. Services are 11 a.m. Friday at the funeral home.

Ms. Cleveland was a long time member of Van Winkle Baptist Church. She was a property manager in the Jackson area. She attended McClure Academy and Provine High School.

Survivors include: mother, Becky Hodges of Jackson; father, Sam Hodges of Forest; sisters, Beverly Blaine of Byram and Alyce Knight of San Diego; brothers, Michael Knight of Birmingham, Ala., David Knight of Southaven and Joey Hodges of Gulfport.

----------

Filmography:
Let's Do It! (1982) (as Amanda Cleveland) .... Michelle
True Confessions (1981) (as Amanda Cleveland) .... Lois Fazenda
Blow Out (1981) (as Amanda Cleveland) .... Coed lover
"CHiPs" - Vigilante (1981) TV Episode (as Amanda Cleveland) .... Blonde
Cheech & Chong's Next Movie (1980) .... Massage Girl
----------


Amanda A. 'Missy' Cleveland
Birth: Dec. 25, 1959
Death: Aug. 14, 2001 cause: adverse reaction to prescription medication

Model, Actress. A native of Jackson, Mississippi, Cleveland was the Playmate of the Month for Playboy Magazine in April 1979. Cleveland who was also in the Little Miss Mississippi Pageant at the age of 10, appeared in the films, "Cheech & Chong's Next Movie" (1980), "Blow Out" (1981), "True Confessions" (1981), Let's Do It!" (1982), and the television program, "CHiPs" in 1981. Cleveland passed away on August 14, 2001, in Yazoo City, Mississippi, at the age of 41.




| Home | Picture Galleries | | Contact |
Sydney Hostel
* Playboy and Playmate are registered trademarks of Playboy and all rights are reserved by them. Images used with permission for this non-profit tribute to Missy Cleveland.